Written by Daniel Loxton; illustrated by Daniel Loxton with Jim W.W. Smith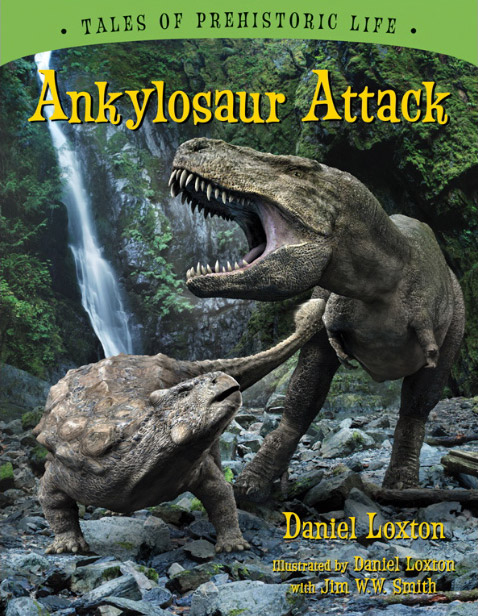 Ankylosaur Attack (2011) is an exciting, natural history-inspired story about a young ankylosaur (a plant-eating, heavy-plated dinosaur) living along the lush banks of a lake. When he encounters an old ankylosaur, he gently endeavors to make contact, only to be rebuffed. Then a T. rex attacks, and old dinosaur is in grave danger. Will the T. rex triumph? It looks that way, until the young ankylosaur comes to the rescue, tail club swinging.
Ankylosaur Attack is Book 1 in the Kids Can Press series "Tales of Prehistoric Life." It is followed by Pterosaur Trouble (2013) and Plesiosaur Peril (2014).
Reading level: Ages 4 and up
Hardcover: 32 pages
Publisher: Kids Can Press
Editor: Valerie Wyatt
Awards
2013 Silver Birch Express Award, Ontario Library Association (Short-Listed Finalist)
2012 Best Books for Kids & Teens, Canadian Children's Book Centre (Winner)
2015 Reading Lights, Vancouver Public Library and the Children's Writers and Illustrators of BC Society (Winner)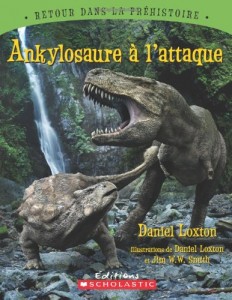 eBooks
Ankylosaur Attack is also available in popular eBook formats including Amazon Kindle, Apple's iTunes (for Mac OS or iOS), and Kobo.
Translated Edition
Ankylosaur Attack is available in a French-language translated paperback edition from Scholastic Canada, Ankylosaure à l'attaque.
Praise for Ankylosaur Attack
A combination of minimal text containing maximal information and computer-generated, photo-realistic images of the creatures in their natural setting makes Loxton's book a mind-blower/eyeball popper for that dino-crazy species that lives among us.
—The Globe and Mail
Ankylosaur Attack is a visual masterpiece.
—Wired GeekMom