Written by Daniel Loxton; illustrated by Daniel Loxton with Jim W.W. Smith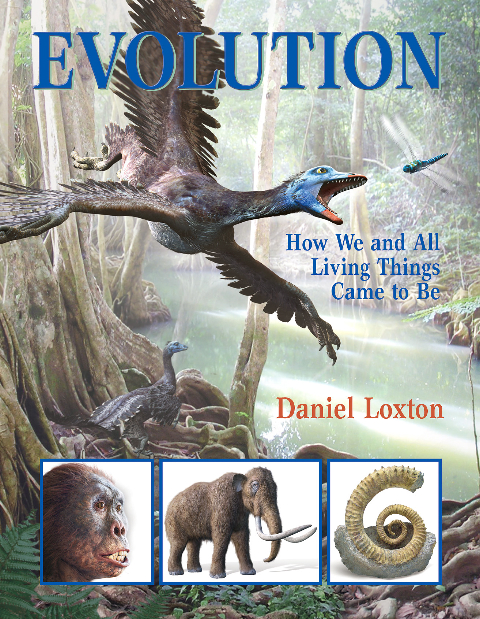 CAN SOMETHING AS COMPLEX AND WONDROUS as the natural world be explained by a simple theory? The answer is yes, and Evolution: How We And All Living Things Came to Be explains how in a way that makes it easy to understand.
Based on acclaimed articles from Junior Skeptic (Skeptic magazine's science insert for kids) Evolution is a gorgeous hardcover with dust jacket, packed throughout with dazzling full-color art.
This spectacularly illustrated introduction to the theory of evolution takes us from Charles Darwin to modern-day science. Along the way, Evolution answers common questions (and clears up misunderstandings) that sometimes confuse people about the history of life on Earth.
Reading level: Recommended for children ages 8–13
Hardcover: 56 pages
Publisher: Kids Can Press
Editor: Valerie Wyatt
Awards
2011 Lane Anderson Book Award, Fitzhenry Family Foundation (Winner)
2011 Norma Fleck Award, Canadian Children's Book Centre (Short-Listed finalist)
2011 Silver Birch Award, Ontario Library Association (Short-Listed finalist)
2011 Best Books for Kids & Teens, Canadian Children's Book Centre (Starred Selection)
Translated Editions
Evolution been licensed for several translated editions in a variety of languages, including Slovenian, Russian, and Portuguese (right).
Praise for Evolution: How We And All Living Things Came to Be
This tour-de-force of science writing will spark the imagination of readers as they contemplate how we and other creatures came to be.
—Lane Anderson Award Jurors
An excellent resource for both students and teachers… This book complies with the ideas set forth about evolution by the National Science Education Standards and fills a gap in books about evolution for this age group.
—National Science Teachers Association